File Size = 34.5MB
On Christmas eve, 2006 our family ran headlong into dark waters. My sister's 8 year old son Chase Ripper was rushed to the hospital and shortly thereafter diagnosed with ALL Leukemia. Chase is now undergoing a second round of treatment to fend off lingering cancer cells.
Coming to my families aid, the crew here at WorldWorksGames pulled together in order to create a terrain set dedicated to Chase Ripper and family. The proceeds of which will go directly into Chase's trust fund, to help offset some of the costs associated with 24/7 care over a period of many months. Every little bit helps in this fight and we won't stop diverting money from this set until the crisis is over. Once that happens we'll feed remaining sums into another cancer charity.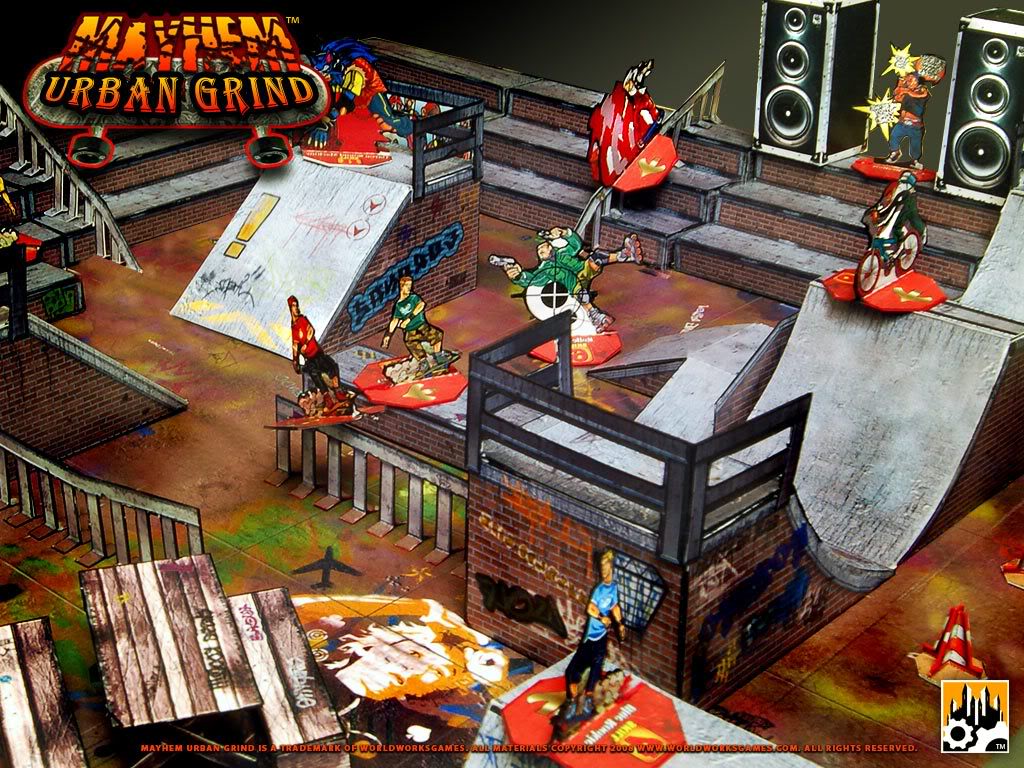 My heart swells with pride knowing that I'm working with such genuine people. People willing to throw aside everything for a relative stranger in need. I would like to personally thank the following contributors who made this incredible gift possible:
* Scott Ried for creating the amazing textures within this set and bringing his knowledge of all things "skater" to the table.
* Matt Lyon for applying his geometric wizardry to the various elements.
* Alberto Silva for illustrating some deeply inspired standees and game elements (no one does better standees than Alberto).
* Bob Cooper for designing a fully functional minigame, creating instructions, promotional photos, keeping things on track/ cohesive with production and generally helping me in a time of chaos.
* And to the rest of the WWG crew who were supportive in every way they could be during this process.
Of course, gigantic thanks are in order to all of you who have purchased this modelset or spread the word about it. I am in your debt and my family can never amply thank you for your support.
Denny Unger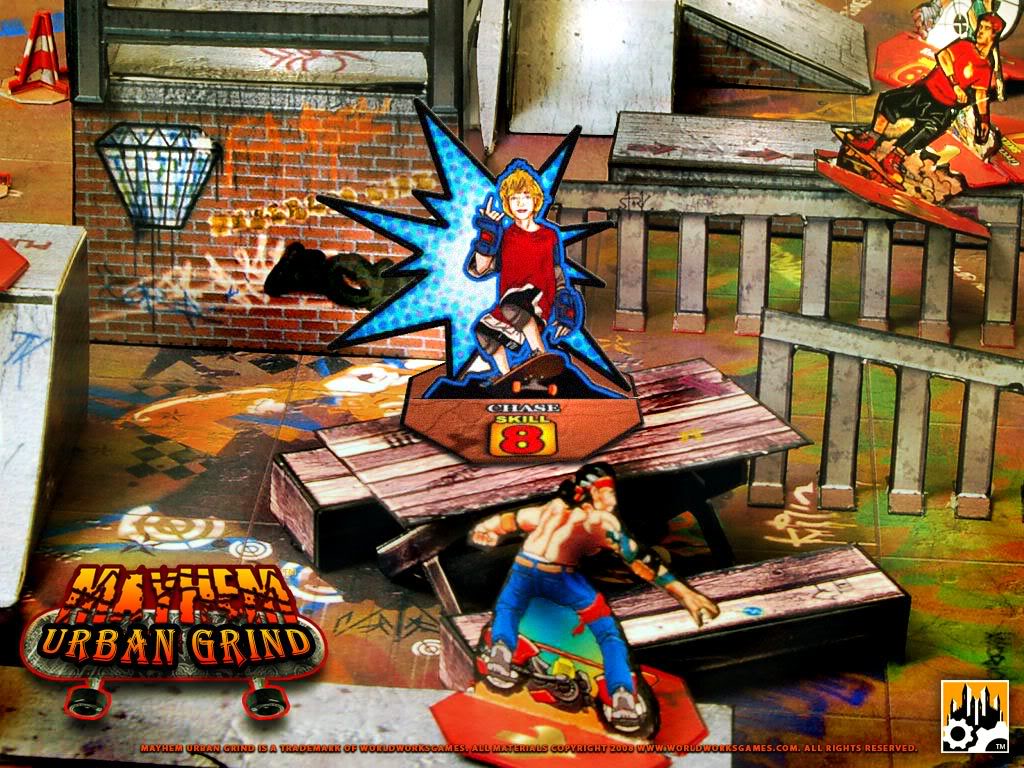 Mayhem: Urban Grind is a skate park, standees and mini-game all in one! Design the park of your dreams and furnish it with all the ramp and grind combos you can handle! Once constructed build up an army of skater dudes to inhabit the park and cause completely mayhem!
As mentioned, this release includes "Mayhem Skate"; a skate park themed multiplayer game which pits your skater against others in an exhibition style or racing format challenge! Includes a number of game variants to spice up the competition! Fun, fast and sweeeeet!
Mayhem: Urban Grind includes all of the following (All skate park terrain comes in both graffiti and "clean" versions) :
o Large Bank
o Large Quarter Pipe
o Small Ramps
o Spine Ramp
o Seating Style Stairs with Railing
o Funbox
o Grind Boxes
o Grind Rails
o Wood Picnic Table
o 5X Ground Tiles in gridless, 1" and 1.5" formats (Includes "LinX" templates)
o 4x – Rookie Skaters – (Red,Green,Blue, Yellow)
o 1x – Pro Skater – Motor Python
o 1x – Pro Skater – BMX Duelist
o 1x – Pro Skater – Tony Wolf
o 1x – Pro Skater – Rollergun
o 1x – Ace Skater – Joey Kia
o 1x – Ace Skater – The Garou Sound Machine
o 1x – Ace Skater – Cachito A. Romero
o 1x – Ace Skater – Chase
o 2x – Police
o 1x – M.C. – Bud Beatbox
o 1x – Spray Can Token
o 2x – Loudboxes
o 16x – Traffic Cones
o 1x – Crowd Standee
o 9x – Trick Tokens
o And as always, fully photographed instructions to take you through the build process.