So you have made your 3D model and now your looking to make it a reality.  Unless you have a 3D printer your best bet is to make a template and print it on a 2D printer.
I use Ultimate Paper Craft 3D to unfold my models and print them out.  However there is another step I neglected to mention in the previous article.   To make unfolding easier save your 3D model under a different name then delete all of the unnecessary faces.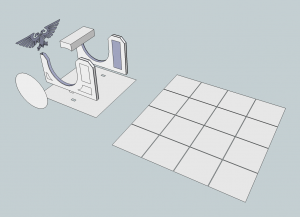 As you see I've deleted all the parts I do not need and then saved the file.  I then open up Ultimate Paper Craft 3D and I start to unfold the model.  I'm not going to do a full tutorial on how to use UPC that is what the help file is for.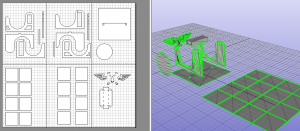 UPC takes a bit of time to get used to.  Some times things just do not unfold like you would like to.  The best thing to do is to reopen the file and start again.
After you have the plans done you just need to print them out.  I prefer to use full sheet label paper.  I print them out, peel the back and place them on the material I'm going to use.  Another option is printing it on Card stock and glueing it to the material you will use.  For me the top three frames (from the picture above) were printed on label paper and the bottom three on card stock.
I realise that this may have been a bit simplistic but a full tutorial on UPC would take pages, it's best to use the help feature to learn how to use this program.  Next step is cutting and assembling!